Please follow the next steps to register in our forum/community.
1. Click on REGISTER or
CLICK HERE
You will see this Popup: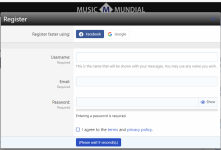 You can use Facebook or Google to register in our forum (Faster).
Please fill the information asked before.
Username
means the Name you want to use to login everyday on this community.
Email
please use your personal email, so you can change password easily in the future.
Password
, DON'T give it to anybody.
Last edited: